Fredrik Axegård is no stranger to Swimrun podiums. Hailing from Bromma, a borough in the western part of Stockholm, the former swimmer is well-known throughout the scene. More than a few Ötillö Top-10 placings throughout the years paired with his compassionate and fair-minded racing mentality made him a widely respected and liked competitor. Last season Fredrik notched a 3rd place at Utö, won the mixed category at the Stockholm Swimrun, collected the Isles of Scilly title and placed 5th in the world champs as well as Ångaloppet. After leading big parts of last weekend's season opener in Hvar, I caught up with him to talk about the race and plans for this season.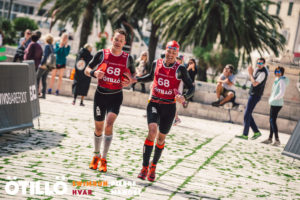 Striding out to a 2nd place finish at ÖTILLÖ Hvar (Picture: Pierre Mangez for ÖTILLÖ)
RUNssel: The ÖTILLÖ World Series course around the Croatian island of Hvar is known for its long and challenging swim segments. Although last year the sea was bumpy and difficult to swim, it seemed that conditions were close to perfect this year. As a strong swimmer it was no surprise that you guys dictated the pace straight from the start. How did the battle unfold for you? When and how did you lost the lead?
Fredrik: We took the lead from in the second swim and kept it until the small islands a few hours in the race. At this time we were three teams battling in front up until the two steep climbs. Team Garmin was really strong there and gained a few minutes on us. I was surprised when we ran/walked past Team Envol on the long run section after the ascents. We got some extra power and held the second place for the last two hours or so. Peter and I felt quite strong all the way. Particularly on the swims of course.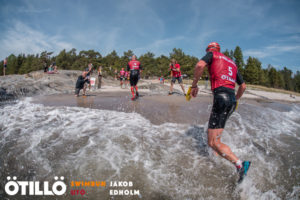 Fredrik leading Daniel Hanson out of the water at the 2017 Utö Swimrun (Picture: Jakob Edholm for ÖTILLÖ)
RUNssel: You mention your partner, fellow Swede Peter Aronsson. This is not your normal teammate. How did that partnership come about?
Fredrik: Peter and I used to compete against each other. This is a very long time ago, though. Both of us were breaststrokers and born in 1977. These days we train and hang out with other Swimrunners at lunch time at Eriksdalsbadet (Edit: Sweden's major swim center in Stockholm). Once my regular partner, Alex Flores couldn't come to Hvar I asked Peter if he was interested. I know he is a talent and since I was struggling with my Achilles I thought it could be a nice and relaxed start into the season. But the closer we came to racing day, the higher did we aim. I think it´s my "tävlingsdjävul" (Edit: Competitiveness). I believed we had a realistic chance to make the podium. The question was if we could hold a fast steady pace in the running sections. Peter didn´t train running since the ÖtillÖ World Champs last September till January. The top teams train significantly more. But he is a talent, no doubt about that!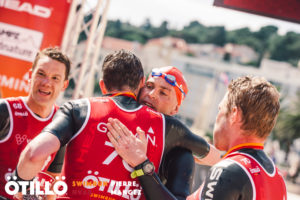 Who said the 2nd place is the first looser? (Picture: Pierre Mangez for ÖTILLÖ)
RUNssel: The long and frosty Swedish winter time did not give the chance to get any Swimrun specific training in I guess. How did you train throughout the winter and how did you guys get ready for such an early race?
Fredrik: I got married in September, three weeks after ÖtillÖ and we went on our honey moon shortly after that. I also had to take some time off mentally. At the same time I had decided to get fully healthy with both worn-out Achilles'. I was struggling with this issue the last two years. I got well in February and I didn´t run much at all until then. But I swam a lot from November onwards. Round about 4 times a week. From February on I ran 3-4 times a week and did regular strength training 2-3 times a week.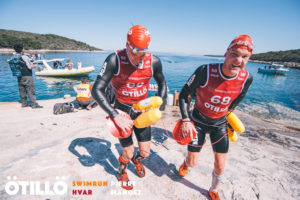 Fredrik and Peter after a long swim section at ÖTILLÖ Hvar (Picture: Pierre Mangez for ÖTILLÖ)
RUNssel: What equipment did you use during the ÖTILLÖ Hvar Swimrun?
Fredrik: I used the new excellent Ark swimsuit, Seal calves, Strokemakers paddles, Head diamond goggles and the Head Swimrun top.
RUNssel: Which other competitions are on the schedule for this year?
Fredrik: I´m doing Utö Swimrun with my partner in crime Alex Flores, Scilly with Stefano Prestinoni, 2XU Island Challenge with Kenny Meijer, LED with Alex Flores, Ångaloppet with Henrik Wahlberg and finally ÖtillÖ with Alex. This is the main goal this season. Perhaps some more competitions between the ones I have listed.