Once digging around some thrift store in Dublin I picked up an enthralling book with the title "Swimming to Antarctica: Tales of a Long-Distance Swimmer" by Lynne Cox. Reading this book, was essentially the very first time I found out about this 195 km2 atoll 47 kilometer south-southwest of Long Beach, California – Catalina Island. Since then the isle only came across my courtesy segments when somebody swam a new record time for the well-known channel crossing from Los Angeles to Santa Catalina Island. Correspondingly the odd shark encounter along the Catalina shorelines was something that now and then flashed up to me while reading the news.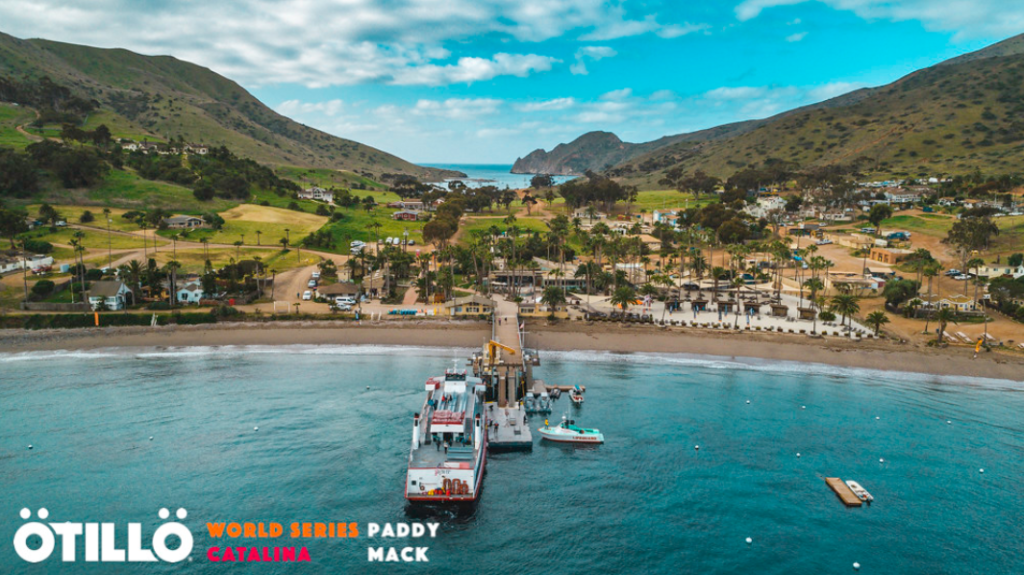 Once my befriended Ötillö organization publicized that they are heading Stateside and to Santa Catalina Island for their very first contest in America, I was captivated. But to be frank, although I was charmed and struck by the location, I seemed to have forgotten about the competition. I can't really recall who made me aware of it but it hit me by surprise that I had to find out that I was in California on holiday anyhow when the race was meant to take place.
After some family internal debates and preparations I contacted my dear friend and fellow SwimRun aficionado Herbert in the quest for a probable companion. It did not take long to get in contact with Robin Pomeroy. Robin and her friend had an brilliant day during Herbert's SwimRun contest throughout Hanging rock state park (check their website and sign up for next year's race). It appeared to click immediately between Robin and myself. She was eager to race and we both had a similar "it is early in the season and I'm not a 100% fit" pretext on hand. Paired with the appreciative support by the wonderful dudes of ARK SwimRun, this turned out to be a great little adventure in the making.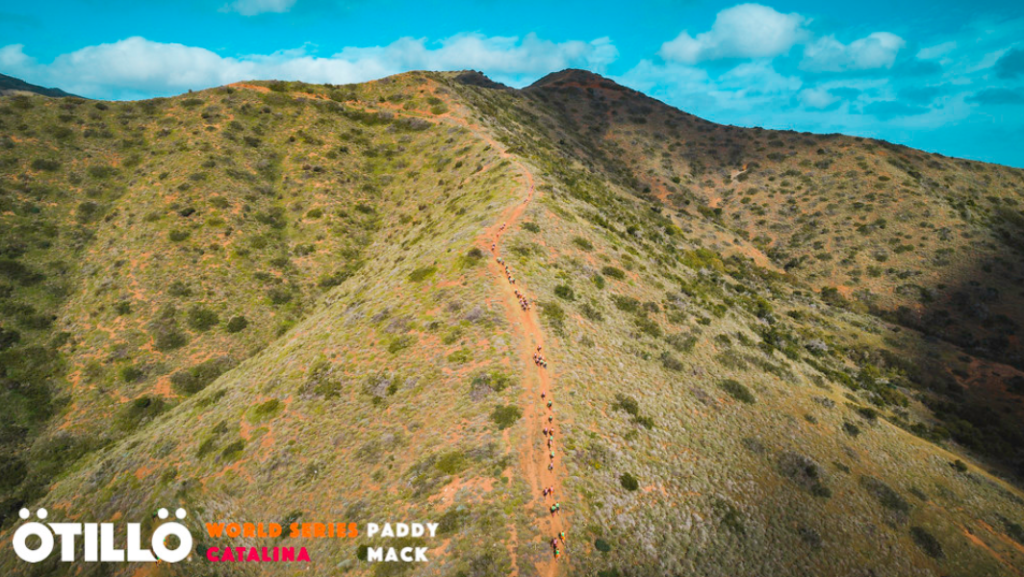 My family and I coasted into LA airport, stayed a night in Long Beach and then found us on a ship to Catalina Island the next morning. And what a two hour journey that was. We could not believe our eyes when we saw a troop of 20-30 dolphins playing beside the ferryboat about 20 minutes before we arrived at Avalon ferry port – A fantastic experience.
Avalon is a small distinct community island town. Pretty rare for American standards no fast-food chains or comparable shops are permitted on the island. This in itself creates a great touch and the little town was an remarkable host for this race even though the start was in another town called Two Harbours further down the coast. We spend the days prior to the race relaxing and hiking. For a good reason Catalina Island is labeled "California's Galapagos Island". I have visited both places and there are certain parallels for sure. Unhurt landscape harmonizing with wonderful wildlife and incredibly clear waters does not feel like a place that is less than two hours away from a demanding 4 million people metropolitan that goes by the name of Los Angeles.
Sunday morning came fast and we found us on a cruise ship to the start area. Aboard the ship we found a lot of familiar faces and friends (thank you swimrunshop.com for the rope!) and it was entertaining to catch up with everybody prior to the competition. When we landed at Two Harbors Robin and I organized our equipment and relaxed as good as we could. I was more than fascinated by Robins proficient tactic. Never before have I seen someone write down the distances and specialties of each swim and run leg so carefully. Instantaneously I knew that not much could go wrong on this beautiful and sunlit day. After dull month after dull month of Vitamin D withdrawal in Sweden, it was untainted frenzy to sense all these sun rays on my pastel coating.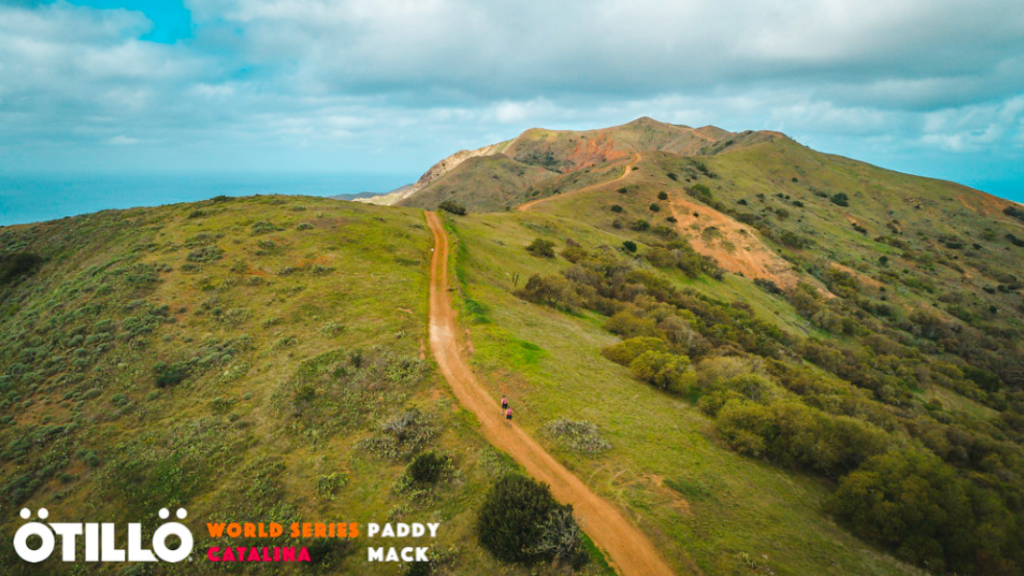 Some high-fives and sociable hugs later, the race was on. After about 1 kilometer of flat running, the first real test came up on us. A pretty steep climb that immediately stretched the field. We were fortunate enough to arrive at this ascent with the first group and started this battle with a suitable power stroll after roughly 5 minutes of "real" running. As Alan Parsons once sang: "What goes up, must come down." And how it came down. Fundamentally the very first downhill set the tone of the course character. And that should effect my body for some weeks – a proper aching in portions of my legs that I never knew exist.
Trails in the US are different to the trails at home. Although it seems that some trails line bend after bend after bend, these Jeep trails basically went straight down. And we weren't used to that at all. The price that we paid was sore legs and a slow performance when it came to jog down the mounts.
So after this first shock for the legs I pretty much looked forward to calm the system down in the pacific with a 1.500 meter swim. Albeit we took it easy, we passed the premier checkpoint in first place in the Mixed category. We did not hold this place for long. The first swim was quite choppy and Robin and I had to find our rhythm as we had never relay trained together before. We managed very well but I was pretty astonished by the swim abilities of the field. Some other mixed teams passed us with pretty imposing speeds.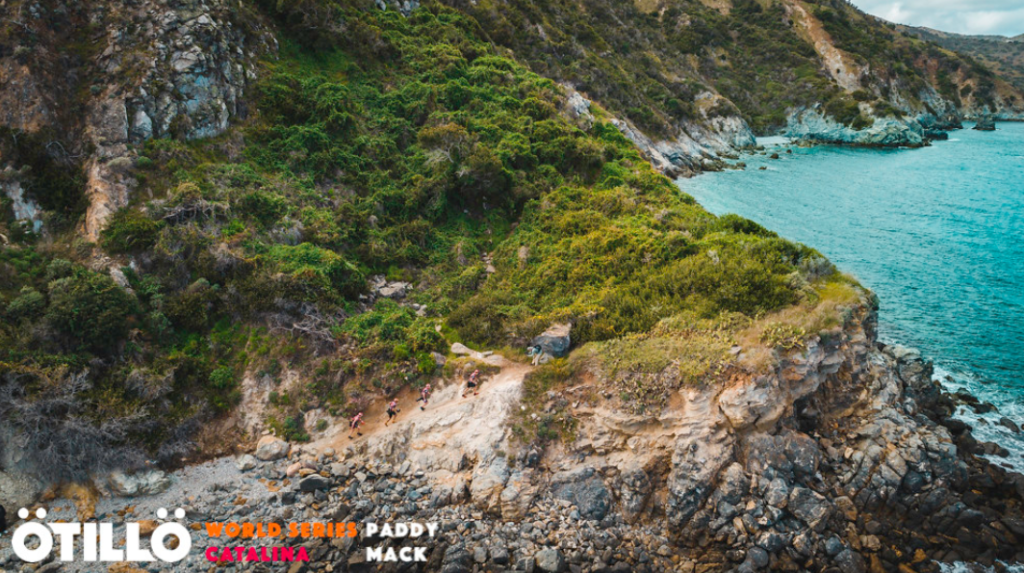 We went on and looped back to the area where the competition started. The running was fantastic. The grimy jeep thoroughfares were fun and easy to run on. After the 2nd swim section, the first long run to Parsons Landing Bay came up. It started with a long and very steep uphill. We cooped very well and, again, found an effective power hike rhythm that we kept to the top. The ridgeline was something else and it was more less impossible to not soak in the pure attractiveness and solitude of Catalina Island.
We ran on and mainly I had to suffer pretty badly on the downhill slope. What a beast of a steep ramp that lead us all the way down to next swim share of the race. We found out the hard way that the downhill presentation was dreadful. While entering the aid station before the swim another mixed team passed us. We checked sometimes while running on the ridge if somebody was chasing us. We never saw anyone. So they obviously knew how to move their bodies downhill. We clearly didn't…
But we had no time to think about that. The imminent swim looked like a rollercoaster. We opted to swim without a rope as the hostile surf was rolling to the beach. A good choice but a bumpy swim nevertheless. I was happy to enter solid grounds after what felt like ages in the sea for a 700 meter swim.
A attired set of pleasant single trails was the course makers "thank you" after this wash machine and after a short run we had a 1300 meter swim on tab. This time the water was qualm and left a little bit of time to enjoy the views. Crystal clear waters permitted the observation of the homegrown fish culture and led to another 3 kilometer run on the dirt roads. We used the clean running to gain valuabe grounds and I was particular happy to constantly sync super well with Robin.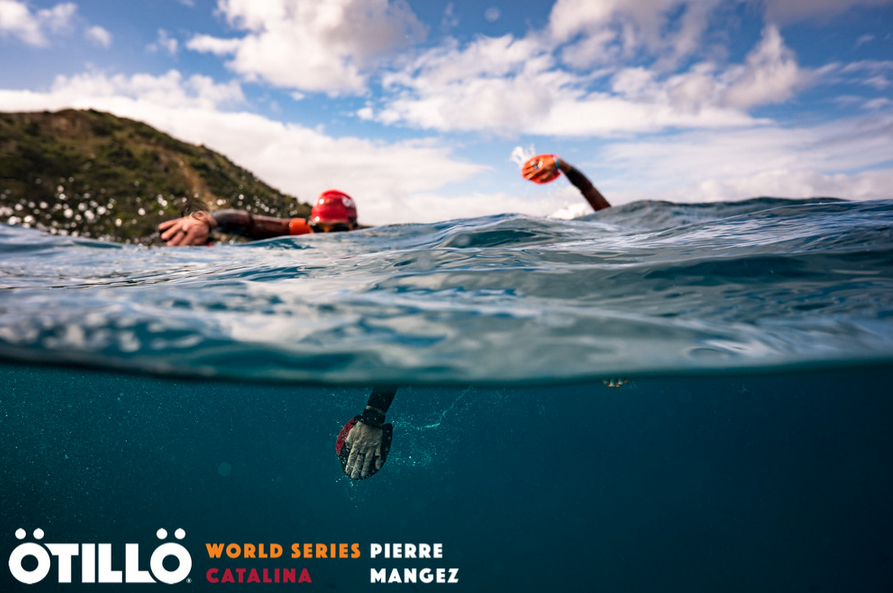 Next up was the lengthiest swim of the competition – 1600 meters. The waves and the light current was a test. But the major challenge we had to face was the cold water. We never really warmed up during the preceding runs and hurt a lot when we stepped back on land. The gales hit us hard and the bodies never really had a chance to warm up. It took us quite a while to get some heat back in the bodies but faster running on the next 4 kilometers certainly helped a bit.
We went on and never really had more teams in sight which made it tough sometimes to go that extra bit out of the comfort zone. But we kept the positive vibe and spirit. When we started the last 1400 meter swim the wind never allowed the bodies to fully recover. We had to take the very last energy reserves to make it through a swim portion that appeared to never really end.
Later than sooner it did and we arrived at the beach and were content about the simple fact that we survived this last stretch of unfriendly water and ran to the finish line. After 5:54:21 we finished as the fifth mixed team. Though the last swim took ages, it all went fast once we crossed the line. Robin was taken care of by Micke Lemmel as she had proper hypothermia. I was also in bad shape and was stuck in the shower without coins for the warm water. What a fight and massive thanks to Johan Carlsson for organizing all these coins to get me back on track. That was a very long time without clothes in that shower…
Once everyone was back to normal we could enjoy a very relaxed and sociable after race hang-out by the beach and drank too much beer and ate too much delicious burgers. When we heard our names at the price giving we weren't too sure why but it turned out that our performance was good enough to qualify for the Ötillö world champs. That was a positive surprise and we celebrated it on the ferry journey back to Avalon with everybody and a ARK sponsored free bar. That was some way to kick off Ötillö SwimRun in the US.
Tune of the day: Inwards – Bright Serpent