When German Triathlon legend Timo Bracht initiated to link some of the finest local trails, nobody could tell how fast this little project would catch the attention of hikers, bikers and runners alike. A 126 kilometer footpath with an elevation of 3.127 meters that follows the river Neckar through the southern foothills of the hilly Odenwald area, was what got plotted out and marked accordingly. Since then the Neckarsteig trail is known locally and nationwide. In 2018 the trail got promoted to "most beautiful hiking trail in Germany".
This part of the Neckar gorge is frankly unique and the waterway curves nicely through this romantic part of the vale. Historic castles and timeworn villages plaster the way amongst pristine trails in the dense and lust woodland. A wide-ranging path where I personally spend a lot of hours running and biking.
The Neckarsteig trail is laid out to be nine stages long, constantly linking to local train stations to create user-friendliness. Until now, the track has seen some proper runs but just recently 27 years old Frenchman Pierre-Emmanuel Alexandre crushed the exiting FKT (Fastest Known Time) down to an unbelievable 12:05:51 Minutes when he undertook the trail from Bad Wimpfen back to the iconic Heidelberg Castle.
I catched up with Pierre-Emmanuel to find out more about himself and this effort.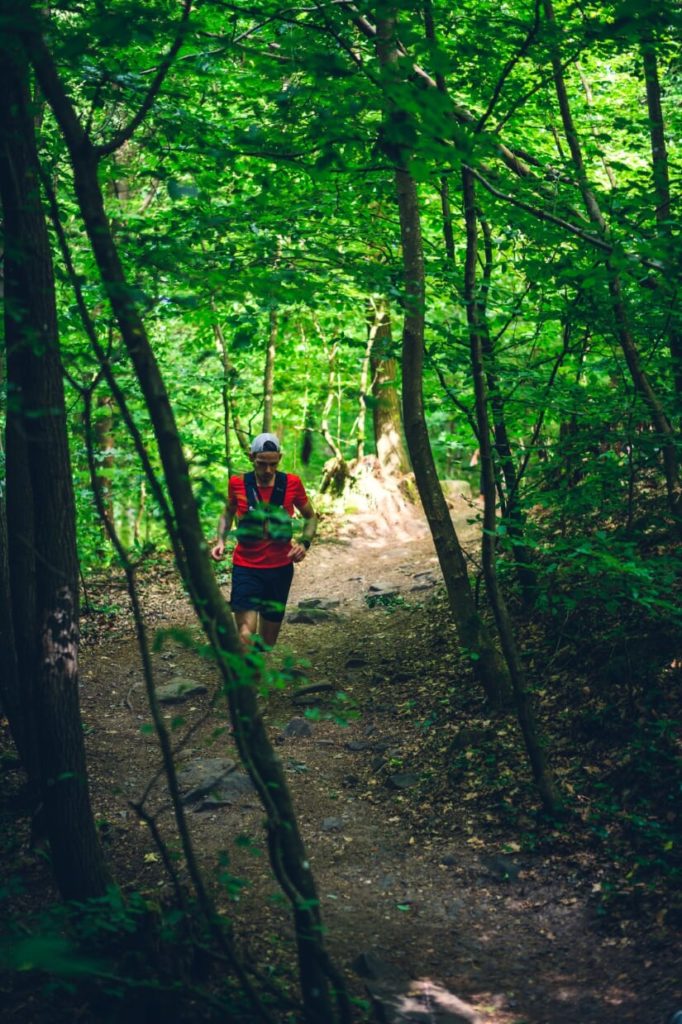 Q: Give us a little rundown on your sporting career and how you ended up running off-road?
Quite early on I started playing football with my brother. We played in our garden and with a small team in our village. I played football with this club until I was 15 years old.
After that I discovered cross-country running as I watching my brother during some competitions. He inspired me, so I tested and I started to run alone at the start. At that point I joined an athletic club in Angers, in the west of France. I started with the traditional stuff that you do in an athletic club. That meant that I was racing 1500, 3000, Cross country etc. It happened that I won the French high school championships in the 3000 steeplechase.
With 20 I moved to Strasbourg to study chemistry at an engineering school and I think in 2015 I ran my first 9 km trail race in the Vosges mountains. Then I moved to Frankfurt and spend my time running in the Taunus region. Eventually I started to run longer. I made some private excursions as I wanted to discover new places as fast as possible.
My first noteworthy victory was at the Trail Marathon in Heidelberg in 2017. It was also my very first race over that distance. I had an amazing day and managed to beat the highly decorated runner Flo Neuschwander… Pouahh.
Then I ran more and more trail competitions and won some races around Heidelberg and in the French Vosges area (Trail du Haut-Koenigsburg, Joker trail, ZUT basetrail XL) and some more… This helped me to score a Salomon Germany sponsorship deal in 2020.
Q: When was the first time you heard about the Neckarsteig Trail?
I think in autumn 2017. Some months after I arrived in Heidelberg. But at that point I never had plans on running this trail. With my girlfriend I hiked the first part of the trail from Heidelberg to Ziegelhausen. At that time ultra-running was a complete new world to me. The longest I had ran was the Heidelberg trail marathon that same year.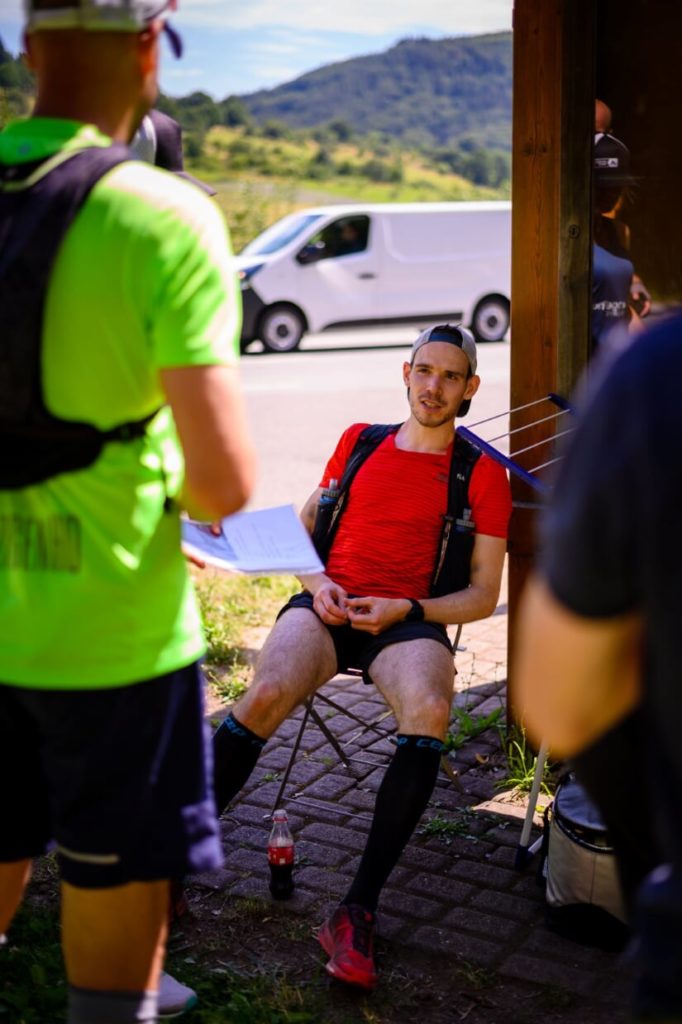 Q: You set an remarkable new FKT on the Bad Wimpfen to Heidelberg direction. What was the reason to run this way and will you try to approach the FKT correspondingly in the other direction? In your opinion, what is the quicker route?
I wanted to finish in Heidelberg. This city means a lot to me. I spent the last 3,5 years in Heidelberg working on my PhD. I really fell in love with the city and the forest around the old town. Moreover I knew that I could get more support if I finished in Heidelberg because most of my friends live there and it was easier for them to join me on the route rather than travelling to Bad Wimpfen.
On the Bad Wimpfen to Heidelberg direction you get most of the altitude meters at the end. I think there are 1000m+ during the last 20k. At first you would think that it is harder to run in this direction. Most of the hiking groups in fact start from Heidelberg. But I am happy with my choice. I don't think I would have been much faster on the other way. Somehow I managed to save my energy on the first part of the track and kept something in the tank for the most beautiful part, from my point of view. Even if there are plenty of beautiful places on the first part, for example the Margarethenschlucht.
Q: In the preparation of the FKT attempt, how much time did you put into the logistical preparation and specific training on the course?
Quite a lot actually. I spend a lot of time organizing my food, checking where I can plan the water stations. I checked the track mostly on a GPS app because I didn't have the time to run all the parts. I knew the last 20k but that was it. I didn't train more than usually. I might have done some longer and slower runs but I still only ran 80k a weeks in average.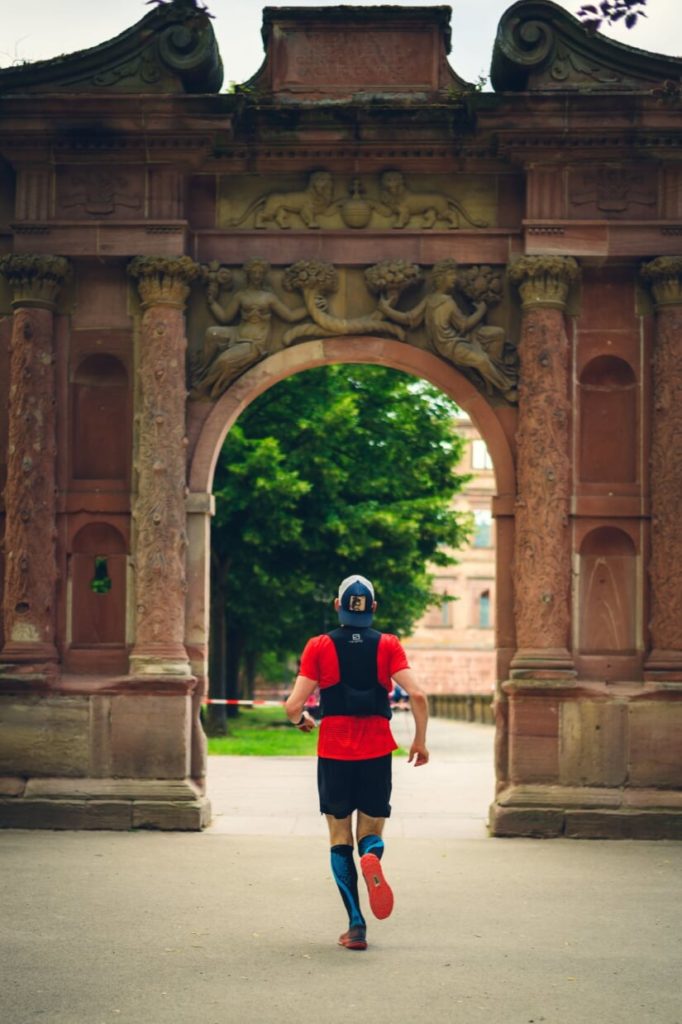 Q: Which part of the route is the toughest in your opinion?
The long loop between Neckargerach and Neunkirchen was quite unpleasant for me because this part is flat and kind of boring. Moreover I ran this part before my first big break (~10min). With 19k this was the longest part without an aid-station. When I approached this part the sun was quite strong and there was not much shadow where I could hide.
Q: Besides the obvious challenges (distances and climbing) what were the biggest difficulties for you along the way?
Definitely the heat. But this is always my problem. I have to drink a lot and get enough electrolytes to avoid cramps.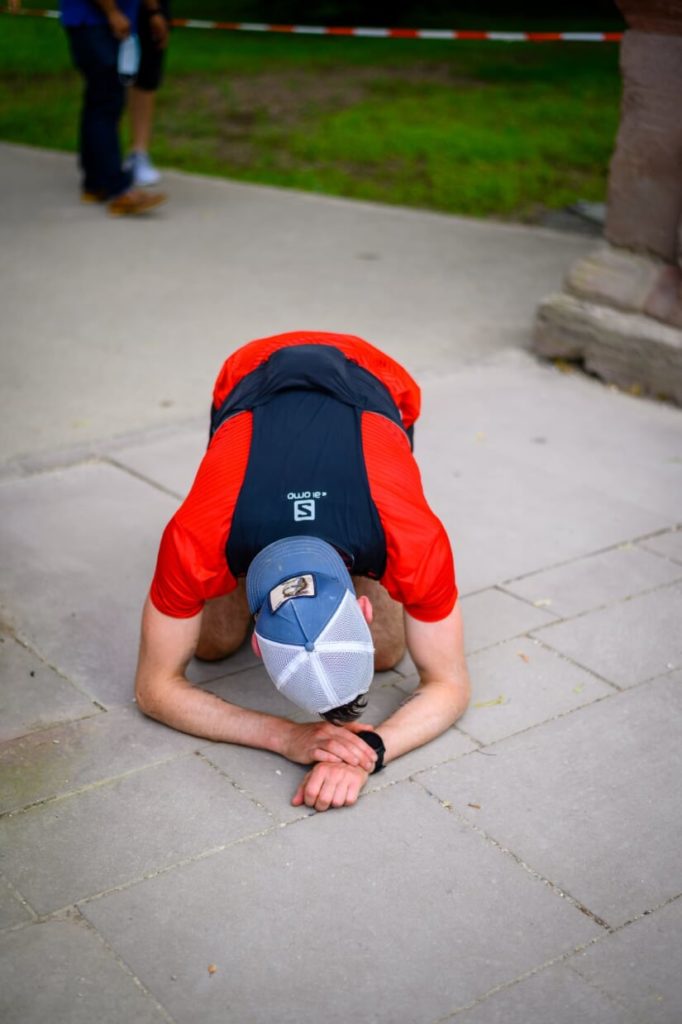 Q: What material did you use and why? How often did you change shoes?
As an Salomon athlete I only used their products and I love them. I wore a Slab T-shirt and shorts. The Sense Ride 3 was my shoe for the first 60k and the Slab Ultra 2 for the second part. I only changed my shoe once but I would do it more often if I run another Ultra. Furthermore I used the Leki Micro RCM poles.
Q: MC Solaar, Suprême NTM or IAM?
Haha actually I don't listen to this kind of music. Paul K, Klingande or Petit Biscuit is more my style. I think I was also too young when they were popular. But if I had to choose I would say IAM – Petit Frère 😉