Seite 2 von 92
SwimRun racing across Inner-Stockholm? Do not look further than Långholmen SwimRun!
I can not really remember how long ago i started running. But i can still remember the purchase of one of my first running shoes. Back at the time i was searching for a reliable allrounder. I ended up buying the 890 from New Balance. This shoe lastet forever. Once it gave up it was a no-brainer for me to buy another pair. NB discontinued this model series a couple of years ago. Now they came back with 6th edition of this vastly popular shoe.
Design wise the latest 890 is a keeper. The upper and the colourways (pictured is White Munsell with Black and Hi-Lite) create a nice and clean looking piece of running equipment. After years of questionable design approaches, New Balance seemed to have finally found a nice and unique design approach.
At first the 890 felt a bit stiff. This changed after 2-3 runs. Nowadays it is my daily go-to trainer that caters my daily work commute runs and longer tempo runs.
I like that NB stays true to their rich running history. The brand hails from the running crazy Boston-area and never forgot that it was the vibrant running scene that helped them to become the brand they are today. In the 1970s, Greater Boston saw an explosion of runners in the area, a trend that drastically boosted business. Since their original Trackster had branded New Balance sneakers as the only running shoe, the company ran ad campaigns to follow suit. They stood firm in their belief that the most important part of a running shoe was the fit and comfort, a value that customers loved then and now.
Unique podular structure maintains notion of full ground contact geometries, preserving the purity of the originally coveted 890 ride.
The blue pattern on the outsole not only sticks out with its color, it also provides great stability in the mid foot area. Something i really felt and enjoyed. Usually im not a big fan of stabilization but this feature certainly is likable.
The sole design is a classic one that helps runners while running on the street. While the appearance might be a bit stiff, i like the direct feeling when hitting the ground.
New Balance was founded in 1906 by English born William J. Riley. The companies main focus was orthopedic products and specializing in arch supports. In 1934 William Riley joined with Arthur Hall, who sold supports to people that had jobs on their feet all day, for example police officers.
With its 6th version, the 890 might be the longest build running shoe in NB's portfolio.
Running in the latest 890 now for several weeks, im happy that New Balance continued with this model series. For me, it is an absolute no-brainer and a shoe that caters so many aspects while road running.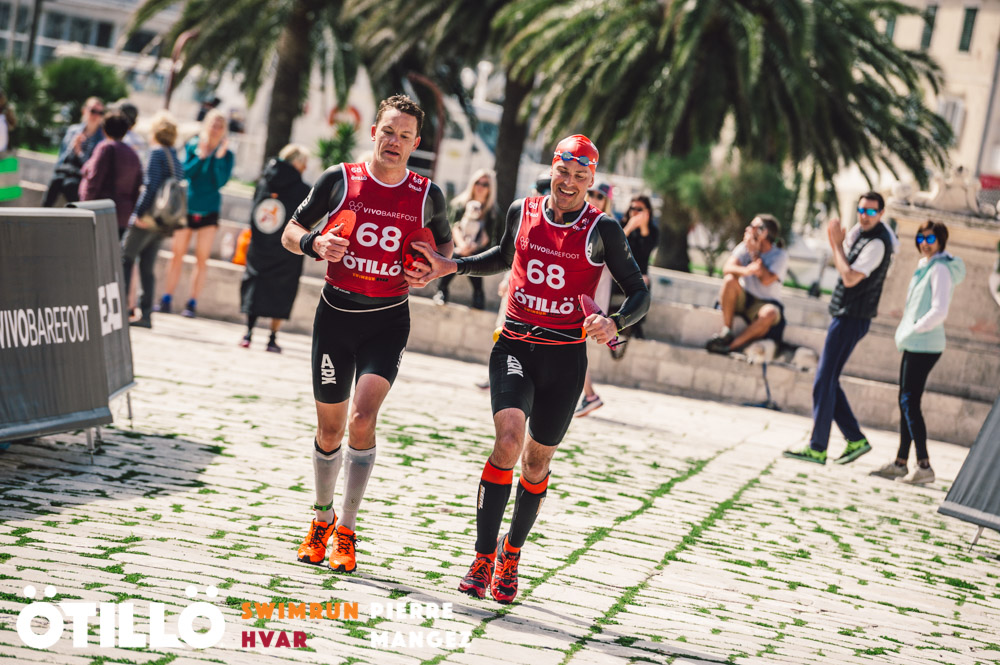 Fredrik Axegård is no stranger to Swimrun podiums. Hailing from Bromma, a borough in the western part of Stockholm, the former swimmer is well-known throughout the scene. More than a few Ötillö Top-10 placings throughout the years paired with his compassionate and fair-minded racing mentality made him a widely respected and liked competitor. Last season Fredrik notched a 3rd place at Utö, won the mixed category at the Stockholm Swimrun, collected the Isles of Scilly title and placed 5th in the world champs as well as Ångaloppet. After leading big parts of last weekend's season opener in Hvar, I caught up with him to talk about the race and plans for this season.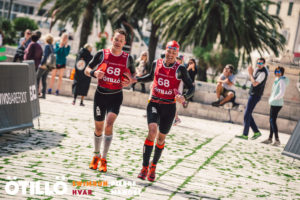 Striding out to a 2nd place finish at ÖTILLÖ Hvar (Picture: Pierre Mangez for ÖTILLÖ)
RUNssel: The ÖTILLÖ World Series course around the Croatian island of Hvar is known for its long and challenging swim segments. Although last year the sea was bumpy and difficult to swim, it seemed that conditions were close to perfect this year. As a strong swimmer it was no surprise that you guys dictated the pace straight from the start. How did the battle unfold for you? When and how did you lost the lead?
Fredrik: We took the lead from in the second swim and kept it until the small islands a few hours in the race. At this time we were three teams battling in front up until the two steep climbs. Team Garmin was really strong there and gained a few minutes on us. I was surprised when we ran/walked past Team Envol on the long run section after the ascents. We got some extra power and held the second place for the last two hours or so. Peter and I felt quite strong all the way. Particularly on the swims of course.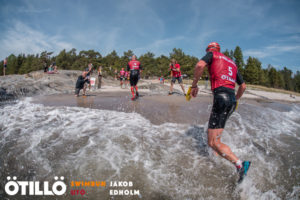 Fredrik leading Daniel Hanson out of the water at the 2017 Utö Swimrun (Picture: Jakob Edholm for ÖTILLÖ)
RUNssel: You mention your partner, fellow Swede Peter Aronsson. This is not your normal teammate. How did that partnership come about?
Fredrik: Peter and I used to compete against each other. This is a very long time ago, though. Both of us were breaststrokers and born in 1977. These days we train and hang out with other Swimrunners at lunch time at Eriksdalsbadet (Edit: Sweden's major swim center in Stockholm). Once my regular partner, Alex Flores couldn't come to Hvar I asked Peter if he was interested. I know he is a talent and since I was struggling with my Achilles I thought it could be a nice and relaxed start into the season. But the closer we came to racing day, the higher did we aim. I think it´s my "tävlingsdjävul" (Edit: Competitiveness). I believed we had a realistic chance to make the podium. The question was if we could hold a fast steady pace in the running sections. Peter didn´t train running since the ÖtillÖ World Champs last September till January. The top teams train significantly more. But he is a talent, no doubt about that!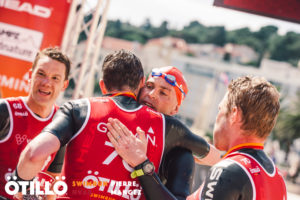 Who said the 2nd place is the first looser? (Picture: Pierre Mangez for ÖTILLÖ)
RUNssel: The long and frosty Swedish winter time did not give the chance to get any Swimrun specific training in I guess. How did you train throughout the winter and how did you guys get ready for such an early race?
Fredrik: I got married in September, three weeks after ÖtillÖ and we went on our honey moon shortly after that. I also had to take some time off mentally. At the same time I had decided to get fully healthy with both worn-out Achilles'. I was struggling with this issue the last two years. I got well in February and I didn´t run much at all until then. But I swam a lot from November onwards. Round about 4 times a week. From February on I ran 3-4 times a week and did regular strength training 2-3 times a week.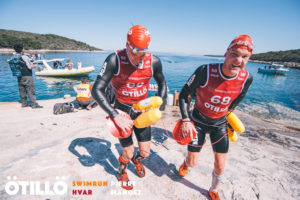 Fredrik and Peter after a long swim section at ÖTILLÖ Hvar (Picture: Pierre Mangez for ÖTILLÖ)
RUNssel: What equipment did you use during the ÖTILLÖ Hvar Swimrun?
Fredrik: I used the new excellent Ark swimsuit, Seal calves, Strokemakers paddles, Head diamond goggles and the Head Swimrun top.
RUNssel: Which other competitions are on the schedule for this year?
Fredrik: I´m doing Utö Swimrun with my partner in crime Alex Flores, Scilly with Stefano Prestinoni, 2XU Island Challenge with Kenny Meijer, LED with Alex Flores, Ångaloppet with Henrik Wahlberg and finally ÖtillÖ with Alex. This is the main goal this season. Perhaps some more competitions between the ones I have listed.
Hoka One One takes its most popular road model to the trails. The latest Challenger ATR4 could be considered the  dirty and rough brother of the Clifton 4.
By now it is no secret that the bulky Hoka One One-style does not mean your are dealing with a lot of weight. With a mere of 265 gram (in my size US13) the Challenger ATR4 continues what runners admire about the brand. Loads of cushion with less weight.
As mentioned in earlier Hoka One One reviews, the brand name origins from the Maori language with the loose meaning "fly over the earth". Knowing this, it might explains the logo. Here placed on top of the romy toe box.
If Salomon would have known what their previous employers were up to. Nicolas Mermoud and Jean-Luc Diard found the Hoka One One as they were seeking for more comfort and better protection while running long and on trails. They developed the bulky shoes in a time when the Minimalistic trend had its peak (anno 2009). The unusual design quickly caught the attention of the ultra trail running scene. Thanks to the open-minded community the trend spread fast.
Active Foot Frame – The fourth version of the Challenger blends into the previous version as a properly cushioned off-road shoe. This time though the sole feels more rigid and liked it even more. Also the quality of the outsole is significantly better. While i had my issues with the rubber quality on the older versions, it seems that this time the sole does not show as much wear as before. The internal heel counter is another new feature. I like the additional support.
And this is the design of the outsole. It is not an aggressive style and definitely not made for highly technical trail or off-trail adventures.  I life in a town and need to get to my local trails via cemented roads. The Challenger combines my needs of trail and road running perfectly.
Meta – Rocker – A detailed look at the oversize EVA midsole of the Challenger ATR 4. The base of a well well-cushioned shoe.
Hoka One One gave the new toe box a little update. They enlarged it and incorporated thicker material on the overlay. While this makes the toe box a bit stiffer then the previous version, it also ensures more safety for the feet.
Quick facts: Offset: 5 mm Forefoot: 24 mm Heel: 29 mm
A thinner and more breathable upper create a pretty comfortable feeling. Dual-layer mesh balances support, durability, and breathability.
The stack height of the new Challenger model is 2mm thicker. This adds up to a mere of 31mm in the heel.
The Challenger Series can be seen as the trail flagship of Hoka's product range.
While older models felt a bit spongy and insecure on the trail, the new midsole material creates a super supportive and firm ride. Long days on the trails take less out of your body. Hoka established the this new way of cushioning and still pushes the development. My quads and back certainly enjoy it.
The re-designed upper definitely earn some style points.
A daily workhorse and a slick and reliable shoe for trail outings. With the 4th installment of the Challenger ATR series, Hoka One One made a great shoe even better. It is hard to overlook the benefits of this comfortable yet light and fast shoe. Racing longer distances does make this shoe a great partner, daily training, commute and mixed terrain is something where i use the Challenger ATR 4.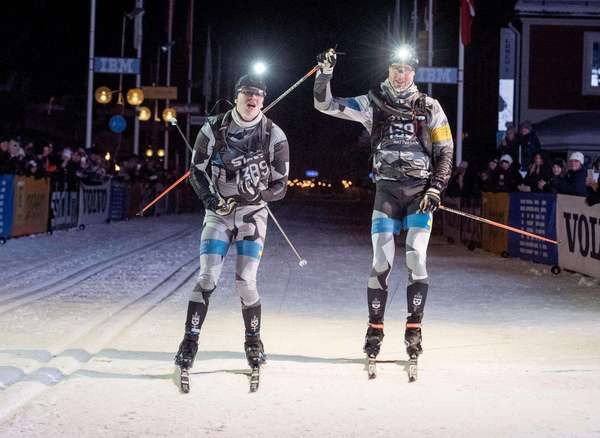 It didn't take them too long. 04:28:16 for 90 kilometres of skating is fast. Doing this during an icy and unpleasant Swedish winter night does not make it easier. Swedish Biathletes Oscar Brandt and Christofer Eriksson won this years issue of the Nattvasan. A team-of-two competition on the famed Vasaloppet course, the Friday ahead of the big race. This version of the Vasaloppet is a unique one and creates its very own magic. I catched up with Östersund-based soldier and biathlete Christofer Eriksson to hear what happened on this "different" night out.
runssel: When you did the Vasaloppet back in 2008 (Finishing time 04:50:13) you were on your own and the visibility was slightly better I guess. 10 years later you come back to race the course again. This time with Oskar Brandt and by night. How did that come about?
Christofer Eriksson: I heard about the Nattvasan race last year and the concept really appealed to me. Since I'm competing in biathlon with skating technique, I thought this race would suit me well. My friend Oskar Brandt is also a good biathlete, so I thought we would have a good chance to finish in the top ranks.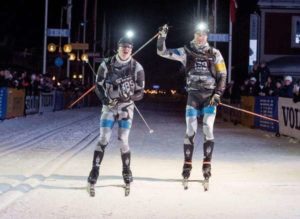 Winners Nattvasan 2018 – Oscar Brandt and Christofer Eriksson (Picture: Nisse Schmidt)
runssel: Leading up to the Nattvasan, how did you guys train? Any specific simulation to copy the unique requirements of a competition like this?
Christofer Eriksson: We didn't do any different training from our regular biathlon training, except taking it a bit easy the last days before the race. Both me and Oskar have competed in the patrol competition during the Military World Championship in biathlon, so we are familiar in competing together as a team. Our army experience about the importance of teamwork and maintaining a high "combat value" was also very useful.
Since you compete together you have to communicate a lot during the race to be able to ski as fast as possible without someone falling behind – you can't just do your own race like in a regular biathlon/ xc-skiing competition.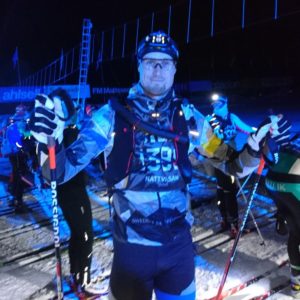 Christofer shortly before the start in Sälen. (Picture: Pär Wikström)
runssel: You took the lead early on. Did you guys follow any specific tactic? Were you skating behind each other? Who was leading? What was the most challenging thing?
Christofer Eriksson: We were a bit surprise to get the lead so early in the race, that wasn't our tactic from the beginning.
After we got the lead we decided to go with a high and steady pace and changed the lead skater regularly to keep the pace high. For me the most challenging factor was the cold, Oskar had some problem with dehydration and muscle spasm after our hydration packs froze early on. Because of our iced-up backpacks we were forced to stop at the aid stations. Hence we knew that we need a pretty big lead to the other teams.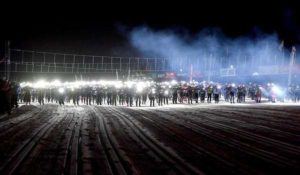 Not a usual Friday night in Sälen. The Vattvasan 2018 is underway. (Picture: Nisse Schmidt)
runssel: What kind of equipment did you use and why? Looking back, would you change anything?
Christofer Eriksson: The big difference for this race was that we had to use headlamps and our own hydration packs. We use headlamps during some of our training sessions, so we were accustomed to that. The difficulty was how to prevent the hydration packs from freezing in the cold. We made some modification using insulation for the tube and the bladder, but the tube froze after about 1 hour into the race. That became a massive problem that slowed us down since we had to stop at the checkpoints to hydrate. The best would be to have a support team along the way with hydration and energy. We had some energy bars with us and had decided to eat at least every hour during the race. It felt like I burned more calories than I thought I would – the pancakes in Evertsberg saved my night!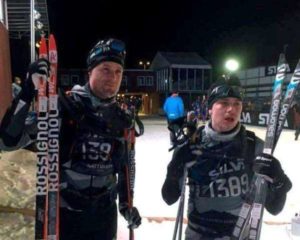 Finished. By any means… (Picture: Pär Wikström)
runssel: Your winning time of 04:28:16 was about 4 minutes slower than the winning time of the main race two days later. Are you planning to come back next year to go faster and defend your title?
Christofer Eriksson: It was a really great and fun race, but we haven't decided yet if we will race next year since our main goals are still within biathlon circus. But I really want to do the race again and ski faster, now with the experience I think we can cut the time by at least 20 minutes in the same weather conditions. But it's more difficult to do a really fast race like this when you're in a team and not "co-trained" for it, but if both team members are strong and well coordinated with a perfect team work – you can ski very fast!
runssel: What is on the agenda for the rest of your season?
Christofer Eriksson: We have the last competitions in the Swedish Cup and Swedish Championships. Then we have the Military World Championship in Hochfilzen, Austria, in April.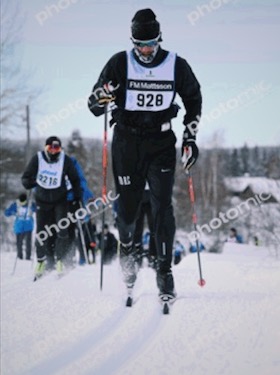 Softly the first couple of sunrays drop into a snow covered valley. The bus just stopped its engine and an exceedingly encouraging chauffeur whishes well to each person that steps off his vehicle. It is early. I check my watch but I do not recall the actual time that is shown. On the screen there is only one data that undoubtedly will stay in my mind for a long time: -29 Degrees. I stop in distrust. My friends text-message a couple of seconds later just approves what my drained brain does not realize. "Fxxx, -29. Fxxx!!!" Before I can even think about the stony temperature I need to guard my fingers in my (way too thin) gloves. I collect my skies and my baggage. Everything is freezing cold. Just beside me there is a massive open space. These couple of resilient sunrays that guise through the forest enlighten a huge field, jam-packed with spectacularly lined-up cross-country spurs. It is Monday morning. I'm in Sälen. I'm at the start of the 94th running of the Vasaloppet.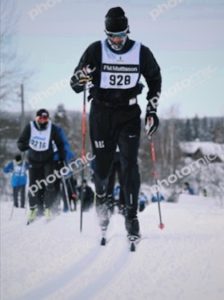 Just some hours earlier and a couple of time-zones east, my family and I leave Phuket at 3am. Two weeks holiday are sadly over. We head back home to Stockholm. Succeeding a 6 hour stopover in Qatar we lastly reach Sweden and solid subzero temperatures. After sleeping for 1 hour I start the car and get on the road for an 3,5 hour drive north. When I reach the town of Mora, the finish of the Vasaloppet, I can feel the adrenaline leisurely making its way through my sluggish body. Sleep deprivation is, for a reason, a highly effective torture method. Soon I will find out how this combines with a 90 kilometer cross-country ski cruise.
The Vasaloppet does not need any form of introduction. It is an institution, one of those extremely iconic competitions. If people just know about one XC-ski race, they confidently know this one. This race is deep in the Sporting-DNA of swedes. They are proud and everyone seems crazy about it. To cater all demands, the Vasaloppet organizers offer several possibilities to experience the course that's been skied since 1922. As well as the real-deal Vasaloppet, you have the following possibilities:
Nattvasan – Race as a team of two during the night. Usually you need to ski with the classic technique, in this race you have the possibility to skate.
Öppet Spår Sunday & Monday – Timing for all competitors but no mass-start. You can start whenever you want from 6am-10am.
Stafettvasan – 5 people share the full course.
Tjejvasan – Women only race. 30 kilometer long.
Halvvasan – Race 50% of the course.
Kortvasan – The short-version. 30 kilometer long.
Ungdomsvasan – 19 or 9 kilometer long.
Blåbärsloppet – 9 kilometer kids race
With a friends visiting and spontaneous holiday re-planning my only chance to undertake the course was the Öppet Spår Monday. It turned out to be the best choice. With a cruel mass-start of 16.000 people the main race would have been far out of my comfort zone. While I was training for the competition I established a loose time-goal. With the fitness I was building up I could see me do the course in a time of 7:15, perhaps eye to break the 7 hour mark. As we had to re-plan our holidays I saw myself not able to reach this goal. Now I just wanted to do the course and finish. I knew that I was going to be worn-out straight from the start. I set out with the flawless objective to eat four Kanelbullar (a traditional Swedish cinnamon roll) and drink as much as possible at EVERY aid station. Typically I'm not the finest feeder during competitions. I had to pay the painful price for this numerous times. To get through this mission in one piece, I knew that I had to have a blameless nutrition approach. It turned out to be a life saver.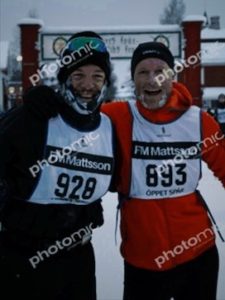 Lacking the hustle of split-times and the subsequent stress, I had the chance to experience the route in its full and exceptional splendor. I got changed, organized my skies and gear and made it stress-free to the start. Once I arrived there just shortly before 8 am most people were already gone. I put on the skies and hit the spur. While I was slithering into the vale the sun became clearly visible and the stout sunrays made me smile. After some meters the first and major climb of the course commenced. I took it easy and found a comfortable tempo. When I entered the plateau the morning sun had lighten up the forest and the course that was winding through it. It was one of those moments that make it all worth it. However I was skiing I made sure to look around frequently and bath myself in this splendor of a picture-perfect Dalarna daybreak.
There are seven checkpoints along the 90 kilometer route. All are laid-out the same way. On the first checkpoint, Eldris, I familiarized myself with the offering. After that I established a little routine which I sustained until the second last station, Mångsbodarna. As mentioned earlier, I ate at least 4 Kanelbullar. Occasionally I took some more which I was consuming along the way. Due to all the hustle beforehand I needed to hydrate a lot. Throughout the plane trip I was already taking care of my hydration but I could feel that It was not enough. Before the start I prepared a flask with water which I was carrying on my waist. I armed this bottle with 6 gels. The strategy was to have a steady and reliable energy reserve. Through training this worked fine but little did I think of the severe temperatures that I was expecting. Once I tried to drink just shortly after the 15 kilometer mark, the bottle was iced up and I couldn't get any sip out of it. I'm going to file this in the "Rookie-Mistake" folder.
Some "expert-friends" stated that the spur was "slow" and the conditions mostly harder then the years before. The cold did not allow the skies to slide the way they should. Seeing the finishing times, it is apparent that the times in the top ranks are significantly slower than the years before. This could be a pointer that my mates are real specialists 😉 Fortunately it did not made a huge difference for me. It did not matter and I'm not in a place to feel a massive difference as I still face other struggles such as skiing technique. As usual I had no difficulties on the lengthy, flat sections where I could double-pole my way through the field. Likewise the uphill sections do not bother me too much. A fact I need to look into is the downhill part. Way too many people passed me. A fact that would have concerned me but did not this time. I got on with it and remained in my auto-cruise approach. 1.000 meter height gain displayed my Garmin after the contest. It did not feel that heavy for me. Furthermore I enjoyed the long uphill stretches. Not so much the many short and sharp inclines that spiked up the course-contour.
Just a couple of kilometers after the Oxberg checkpoint, roughly in the middle of the path, my left stick broke. It was not even a severe uphill part when I could not believe what had just happened. I tried to stick the top piece of the broken pole back into the other part to use it somehow. It did not work and I continued holding the broken part of my fancy Atomic Redster Carbon Ultra stick, that I just bought two months prior to the race, and used it as good as possible. The problem was that the imminent part was a pretty hilly one. So I fought my way up and down the slope and was so happy when I arrived in Evertsberg. Every aid-station had a massive Swix service point. They provided an incredible service with all sorts of poles, skies and waxing service. Superfast I had my new stick and was able to continue. Thanks for that Swix. No thanks to Atomic, as they requested a picture of the broken stick (that I obviously left there) to permit a recompense!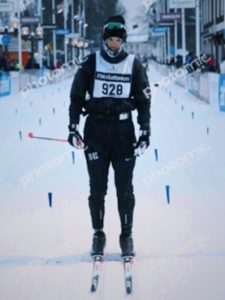 More and more clouds sheltered the sun and there was no need to wear sunglasses any longer. By now I was very close to Mora. Every single kilometer of the course was well marked with a big sign that showed how much is left until the finish and also to the subsequent aid station. What appeared to be a frightful view on the first kilometers turned out to be a very motivating fact the lower the kilometer number went. With 25 kilometer to go, I still felt good. My mind was fresh enough and my body replied. I decided to give it a go and set myself the target to not get overtaken until the Mora finish line. This worked out pretty well as I found a good momentum that I enjoyed a lot. Only two skiers made it past me. The famed view towards the Mora church tower was a very satisfying one. A long and positive day came to an end. After all that had happened in the last 48 hours this was exactly what I hoped it would be. I could soak in the atmosphere and the moment. To get through this in the way I did made me proud. To enjoy something special like this the way I did made it really worth it.
Lucky enough two of my friends drove my car back to Stockholm. I had to cut the phone call with my wife short as I took seat in the back. I still cannot reminisce when we left Mora. I fell asleep immediately and the next think that I recall is me waking up as my friend left the car back in Stockholm.
Tune of the day:
Evidence – Weather or Not LP
– What a good record that is. 11 years after Evidence's solo debut, The Weatherman LP, he just issued a proper and all-round classy hip-hop record. In times when artists strive for single hits, he comes up with an album that features only quality productions and lyrical masterworks. By this time already the album of the year in my ears.