Softly the first couple of sunrays drop into a snow covered valley. The bus just stopped its engine and an exceedingly encouraging chauffeur whishes well to each person that steps off his vehicle. It is early. I check my watch but I do not recall the actual time that is shown. On the screen there is only one data that undoubtedly will stay in my mind for a long time: -29 Degrees. I stop in distrust. My friends text-message a couple of seconds later just approves what my drained brain does not realize. "Fxxx, -29. Fxxx!!!" Before I can even think about the stony temperature I need to guard my fingers in my (way too thin) gloves. I collect my skies and my baggage. Everything is freezing cold. Just beside me there is a massive open space. These couple of resilient sunrays that guise through the forest enlighten a huge field, jam-packed with spectacularly lined-up cross-country spurs. It is Monday morning. I'm in Sälen. I'm at the start of the 94th running of the Vasaloppet.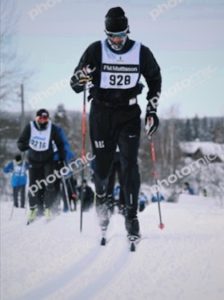 Just some hours earlier and a couple of time-zones east, my family and I leave Phuket at 3am. Two weeks holiday are sadly over. We head back home to Stockholm. Succeeding a 6 hour stopover in Qatar we lastly reach Sweden and solid subzero temperatures. After sleeping for 1 hour I start the car and get on the road for an 3,5 hour drive north. When I reach the town of Mora, the finish of the Vasaloppet, I can feel the adrenaline leisurely making its way through my sluggish body. Sleep deprivation is, for a reason, a highly effective torture method. Soon I will find out how this combines with a 90 kilometer cross-country ski cruise.
The Vasaloppet does not need any form of introduction. It is an institution, one of those extremely iconic competitions. If people just know about one XC-ski race, they confidently know this one. This race is deep in the Sporting-DNA of swedes. They are proud and everyone seems crazy about it. To cater all demands, the Vasaloppet organizers offer several possibilities to experience the course that's been skied since 1922. As well as the real-deal Vasaloppet, you have the following possibilities:
Nattvasan – Race as a team of two during the night. Usually you need to ski with the classic technique, in this race you have the possibility to skate.
Öppet Spår Sunday & Monday – Timing for all competitors but no mass-start. You can start whenever you want from 6am-10am.
Stafettvasan – 5 people share the full course.
Tjejvasan – Women only race. 30 kilometer long.
Halvvasan – Race 50% of the course.
Kortvasan – The short-version. 30 kilometer long.
Ungdomsvasan – 19 or 9 kilometer long.
Blåbärsloppet – 9 kilometer kids race
With a friends visiting and spontaneous holiday re-planning my only chance to undertake the course was the Öppet Spår Monday. It turned out to be the best choice. With a cruel mass-start of 16.000 people the main race would have been far out of my comfort zone. While I was training for the competition I established a loose time-goal. With the fitness I was building up I could see me do the course in a time of 7:15, perhaps eye to break the 7 hour mark. As we had to re-plan our holidays I saw myself not able to reach this goal. Now I just wanted to do the course and finish. I knew that I was going to be worn-out straight from the start. I set out with the flawless objective to eat four Kanelbullar (a traditional Swedish cinnamon roll) and drink as much as possible at EVERY aid station. Typically I'm not the finest feeder during competitions. I had to pay the painful price for this numerous times. To get through this mission in one piece, I knew that I had to have a blameless nutrition approach. It turned out to be a life saver.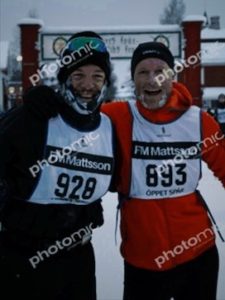 Lacking the hustle of split-times and the subsequent stress, I had the chance to experience the route in its full and exceptional splendor. I got changed, organized my skies and gear and made it stress-free to the start. Once I arrived there just shortly before 8 am most people were already gone. I put on the skies and hit the spur. While I was slithering into the vale the sun became clearly visible and the stout sunrays made me smile. After some meters the first and major climb of the course commenced. I took it easy and found a comfortable tempo. When I entered the plateau the morning sun had lighten up the forest and the course that was winding through it. It was one of those moments that make it all worth it. However I was skiing I made sure to look around frequently and bath myself in this splendor of a picture-perfect Dalarna daybreak.
There are seven checkpoints along the 90 kilometer route. All are laid-out the same way. On the first checkpoint, Eldris, I familiarized myself with the offering. After that I established a little routine which I sustained until the second last station, Mångsbodarna. As mentioned earlier, I ate at least 4 Kanelbullar. Occasionally I took some more which I was consuming along the way. Due to all the hustle beforehand I needed to hydrate a lot. Throughout the plane trip I was already taking care of my hydration but I could feel that It was not enough. Before the start I prepared a flask with water which I was carrying on my waist. I armed this bottle with 6 gels. The strategy was to have a steady and reliable energy reserve. Through training this worked fine but little did I think of the severe temperatures that I was expecting. Once I tried to drink just shortly after the 15 kilometer mark, the bottle was iced up and I couldn't get any sip out of it. I'm going to file this in the "Rookie-Mistake" folder.
Some "expert-friends" stated that the spur was "slow" and the conditions mostly harder then the years before. The cold did not allow the skies to slide the way they should. Seeing the finishing times, it is apparent that the times in the top ranks are significantly slower than the years before. This could be a pointer that my mates are real specialists 😉 Fortunately it did not made a huge difference for me. It did not matter and I'm not in a place to feel a massive difference as I still face other struggles such as skiing technique. As usual I had no difficulties on the lengthy, flat sections where I could double-pole my way through the field. Likewise the uphill sections do not bother me too much. A fact I need to look into is the downhill part. Way too many people passed me. A fact that would have concerned me but did not this time. I got on with it and remained in my auto-cruise approach. 1.000 meter height gain displayed my Garmin after the contest. It did not feel that heavy for me. Furthermore I enjoyed the long uphill stretches. Not so much the many short and sharp inclines that spiked up the course-contour.
Just a couple of kilometers after the Oxberg checkpoint, roughly in the middle of the path, my left stick broke. It was not even a severe uphill part when I could not believe what had just happened. I tried to stick the top piece of the broken pole back into the other part to use it somehow. It did not work and I continued holding the broken part of my fancy Atomic Redster Carbon Ultra stick, that I just bought two months prior to the race, and used it as good as possible. The problem was that the imminent part was a pretty hilly one. So I fought my way up and down the slope and was so happy when I arrived in Evertsberg. Every aid-station had a massive Swix service point. They provided an incredible service with all sorts of poles, skies and waxing service. Superfast I had my new stick and was able to continue. Thanks for that Swix. No thanks to Atomic, as they requested a picture of the broken stick (that I obviously left there) to permit a recompense!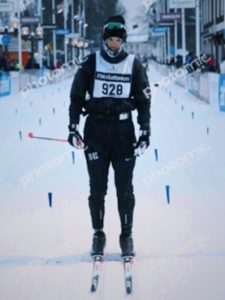 More and more clouds sheltered the sun and there was no need to wear sunglasses any longer. By now I was very close to Mora. Every single kilometer of the course was well marked with a big sign that showed how much is left until the finish and also to the subsequent aid station. What appeared to be a frightful view on the first kilometers turned out to be a very motivating fact the lower the kilometer number went. With 25 kilometer to go, I still felt good. My mind was fresh enough and my body replied. I decided to give it a go and set myself the target to not get overtaken until the Mora finish line. This worked out pretty well as I found a good momentum that I enjoyed a lot. Only two skiers made it past me. The famed view towards the Mora church tower was a very satisfying one. A long and positive day came to an end. After all that had happened in the last 48 hours this was exactly what I hoped it would be. I could soak in the atmosphere and the moment. To get through this in the way I did made me proud. To enjoy something special like this the way I did made it really worth it.
Lucky enough two of my friends drove my car back to Stockholm. I had to cut the phone call with my wife short as I took seat in the back. I still cannot reminisce when we left Mora. I fell asleep immediately and the next think that I recall is me waking up as my friend left the car back in Stockholm.
Tune of the day:
Evidence – Weather or Not LP
– What a good record that is. 11 years after Evidence's solo debut, The Weatherman LP, he just issued a proper and all-round classy hip-hop record. In times when artists strive for single hits, he comes up with an album that features only quality productions and lyrical masterworks. By this time already the album of the year in my ears.