It didn't take them too long. 04:28:16 for 90 kilometres of skating is fast. Doing this during an icy and unpleasant Swedish winter night does not make it easier. Swedish Biathletes Oscar Brandt and Christofer Eriksson won this years issue of the Nattvasan. A team-of-two competition on the famed Vasaloppet course, the Friday ahead of the big race. This version of the Vasaloppet is a unique one and creates its very own magic. I catched up with Östersund-based soldier and biathlete Christofer Eriksson to hear what happened on this "different" night out.
runssel: When you did the Vasaloppet back in 2008 (Finishing time 04:50:13) you were on your own and the visibility was slightly better I guess. 10 years later you come back to race the course again. This time with Oskar Brandt and by night. How did that come about?
Christofer Eriksson: I heard about the Nattvasan race last year and the concept really appealed to me. Since I'm competing in biathlon with skating technique, I thought this race would suit me well. My friend Oskar Brandt is also a good biathlete, so I thought we would have a good chance to finish in the top ranks.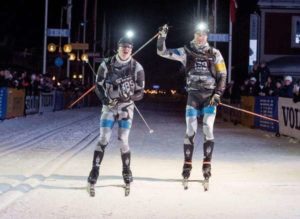 Winners Nattvasan 2018 – Oscar Brandt and Christofer Eriksson (Picture: Nisse Schmidt)
runssel: Leading up to the Nattvasan, how did you guys train? Any specific simulation to copy the unique requirements of a competition like this?
Christofer Eriksson: We didn't do any different training from our regular biathlon training, except taking it a bit easy the last days before the race. Both me and Oskar have competed in the patrol competition during the Military World Championship in biathlon, so we are familiar in competing together as a team. Our army experience about the importance of teamwork and maintaining a high "combat value" was also very useful.
Since you compete together you have to communicate a lot during the race to be able to ski as fast as possible without someone falling behind – you can't just do your own race like in a regular biathlon/ xc-skiing competition.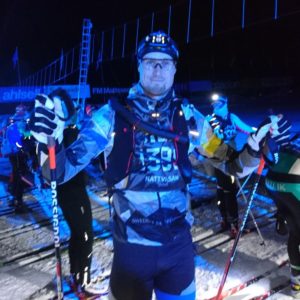 Christofer shortly before the start in Sälen. (Picture: Pär Wikström)
runssel: You took the lead early on. Did you guys follow any specific tactic? Were you skating behind each other? Who was leading? What was the most challenging thing?
Christofer Eriksson: We were a bit surprise to get the lead so early in the race, that wasn't our tactic from the beginning.
After we got the lead we decided to go with a high and steady pace and changed the lead skater regularly to keep the pace high. For me the most challenging factor was the cold, Oskar had some problem with dehydration and muscle spasm after our hydration packs froze early on. Because of our iced-up backpacks we were forced to stop at the aid stations. Hence we knew that we need a pretty big lead to the other teams.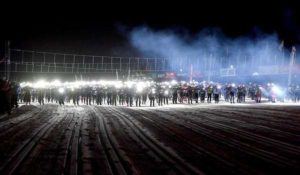 Not a usual Friday night in Sälen. The Vattvasan 2018 is underway. (Picture: Nisse Schmidt)
runssel: What kind of equipment did you use and why? Looking back, would you change anything?
Christofer Eriksson: The big difference for this race was that we had to use headlamps and our own hydration packs. We use headlamps during some of our training sessions, so we were accustomed to that. The difficulty was how to prevent the hydration packs from freezing in the cold. We made some modification using insulation for the tube and the bladder, but the tube froze after about 1 hour into the race. That became a massive problem that slowed us down since we had to stop at the checkpoints to hydrate. The best would be to have a support team along the way with hydration and energy. We had some energy bars with us and had decided to eat at least every hour during the race. It felt like I burned more calories than I thought I would – the pancakes in Evertsberg saved my night!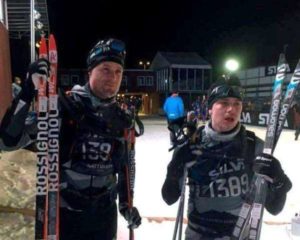 Finished. By any means… (Picture: Pär Wikström)
runssel: Your winning time of 04:28:16 was about 4 minutes slower than the winning time of the main race two days later. Are you planning to come back next year to go faster and defend your title?
Christofer Eriksson: It was a really great and fun race, but we haven't decided yet if we will race next year since our main goals are still within biathlon circus. But I really want to do the race again and ski faster, now with the experience I think we can cut the time by at least 20 minutes in the same weather conditions. But it's more difficult to do a really fast race like this when you're in a team and not "co-trained" for it, but if both team members are strong and well coordinated with a perfect team work – you can ski very fast!
runssel: What is on the agenda for the rest of your season?
Christofer Eriksson: We have the last competitions in the Swedish Cup and Swedish Championships. Then we have the Military World Championship in Hochfilzen, Austria, in April.